Leon Seiter
In the Shadows of a Honky Tonk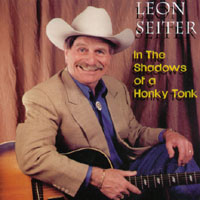 "We tried to recreate the sound from the late fifties, and early sixties. In doing so, we got top musicians, people who played many hits to come out of Nashville."
Review by A.J. Alfaro for Kweevak.com: Leon Seiter has successfully recreated the country sound of the late fifties and early sixties. The sound is warm and soothing and the musicianship is par excellence. Leons vocals are strong and convincing with quality vibrato and sustain notes. His song selection is traditional country and his execution of the material is sublime. Leon envelops you in his musical world again and again and leaves you very satisfied and content. Leon has surrounded himself with excellent musicians who each contribute significantly to the heavenly blend and delivery of every tune. Buddy Emmonds on pedal steel is sweet and soothing and serenades your musical senses. Buddy Spicer makes the fiddle smile and dance and grabs you with the charm and proficiency of his playing style. The rhythm section carries each tune genuinely and complements the soloists immensely. The vocal harmonies are balanced, well blended and supportive. Leon Seiter has achieved a successful recording of traditional country music of yesteryear. The CD is a genuine display of heartfelt musical arrangements showcasing Leons strong and enticing vocal delivery while fully utilizing the excellent musicians he features. The song content and quality are second to none.
1
Under Your Spell Again 2:52
Buck Owens/Dusty Rhodes - Central Songs BMI
2
I've Got A New Heartache 2:37
Wayne P. Walker - Cedarwood BMI
3
You Don't Love Me (But I'll Always Care) 4:01
L Wayne - M. M. Cole Pub. BMI
4
I've Seen The Devil Have His Way 2:19
Leon Seiter - Lanies Pride BMI
5
Where True Love Waits For Me 2:29
Leon Seiter - Milten Music BMI
6
Mr. Jones 2:55
Howard Walker - Milten Music BMI
7
The Blue Grass Ain't Blue 2:23
Howard Walker - Milten Music BMI
8
New Memories For Old 2:16
Howard Walker - Milten Music BMI
9
I Wonder Where Love Goes (When It's Gone) 2:36
Leon Seiter - Milten Music BMI
10
The Shadows Of A Honky Tonk 2:39
Howard Walker - Milten Music BMI